Welcome to New hope and New Life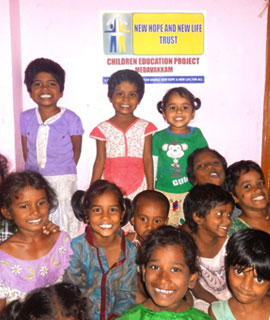 We greet you all on behalf of the New Hope and New Life organization. It is the Will of God that all of us should have a Life of Hope and lead a happy life. But millions of people have lost their lives because of disbelief and unable to lead a peaceful life.

Children, adolescents, women, elderly and all others have a lot of questions - Who will love us? Who will comfort us? Who will advice and care for us?

It is our duty to go and meet these people, try to know their needs, advice, comfort them, help them, give them new hope and new life and we are in the process of performing such life-changing activities.

In order to fulfill these activities, we are serving different sectors of people through our various welfare activities. By serving the needy people, we are serving God. We invite you to take part in our service.
Vision
In this world millions of people lose their hopes due to various reasons and in turn lose their very own life. God the creator wants to use us to bring hope to these millions, who are losing their God-given precious lives. Come and join us and let us do the possible help to others.
Mission
Giving New Hope and New Life by providing all the basic needs to those orphans and destitutes, who are living without food, clothing, shelter, education etc.
" We also welcome you to extend your helping hand to fulfill our mission."
" The primary purpose which God expects in our life is to help others "
New Hope and New Life Latest Activities